How to use Simusuite
Our customers use Simusuite in a variety of ways depending on what their desired purpose is. Simusuite can be used at all stages of the recruitment process. It can even be used for existing staff to check understanding of specific aspects of a role, either by using the standardised tests or by creating a bespoke test that covers job, company or product specific knowledge.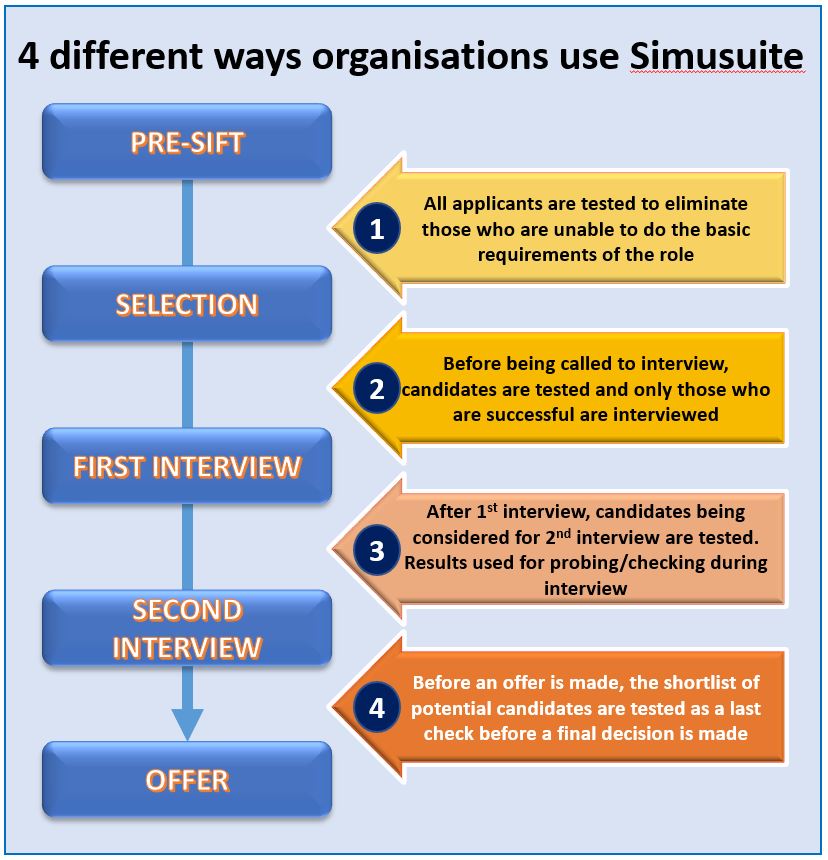 Clients tend to use one of the four stages to apply the tests. There are different reasons for doing so, from saving time to identifying areas to probe at interview.
Pre-Sift
Used at the pre-sift stage, the tests can identify those who would be unlikely to succeed at interview stage due to possible inability to meet the basic requirements demanded by the role. Clients who use tests at this stage identify time savings of 30% and higher in the recruitment process, due to time eliminated from interviewing candidates who would be unsuitable.
First Interview
Clients will submit those they have identified as potentials for interview to the appropriate tests for the role. The outcome will be a set of reports for all candidates, identifying those who are more likely to be successful in role to those who won't. On this basis, many clients will only invite candidates with an acceptable score to interview.
Second Interview
Clients will use this stage to identify questions to probe during second interviews. At this point, any candidate will have already been successful at first interview stage and by applying the test now, areas that need to be discussed can easily be identified.
Offer
Rarely used but can be a final check before an individual is employed. More often this is used to identify any specific areas for development of a candidate who is being offered the job so that training can be put in place for their smooth transition into the role.
If you are unsure of which option to take, talk to us about how it can best meet your desired outcome either in terms of savings and/or candidate suitability.